By Charlie Crocker and Joe Grupalo
At the recent City of Berkeley Fire Ready Fest, the community gathered to commemorate the 100th anniversary of a devastating wildfire that once ravaged the city. Back on September 17, 1923, a massive wildfire swept down from Wildcat Canyon into Berkeley and consumed over 580 homes. The Fire Ready Fest served as a poignant reminder of the need for preparedness in the face of natural disasters.
Berkeley Mayor Jesse Arreguin addressed the crowd, emphasizing the need for reflection and a renewed commitment to prevent such tragedies from happening again. Yet, history repeated itself in 1991 with the Tunnel Fire, which engulfed more than 3,000 homes in the Oakland/Berkeley hills. Mayor Arreguin also stopped by the Genasys booth and proudly showed how he uses the Genasys Protect app on his mobile phone.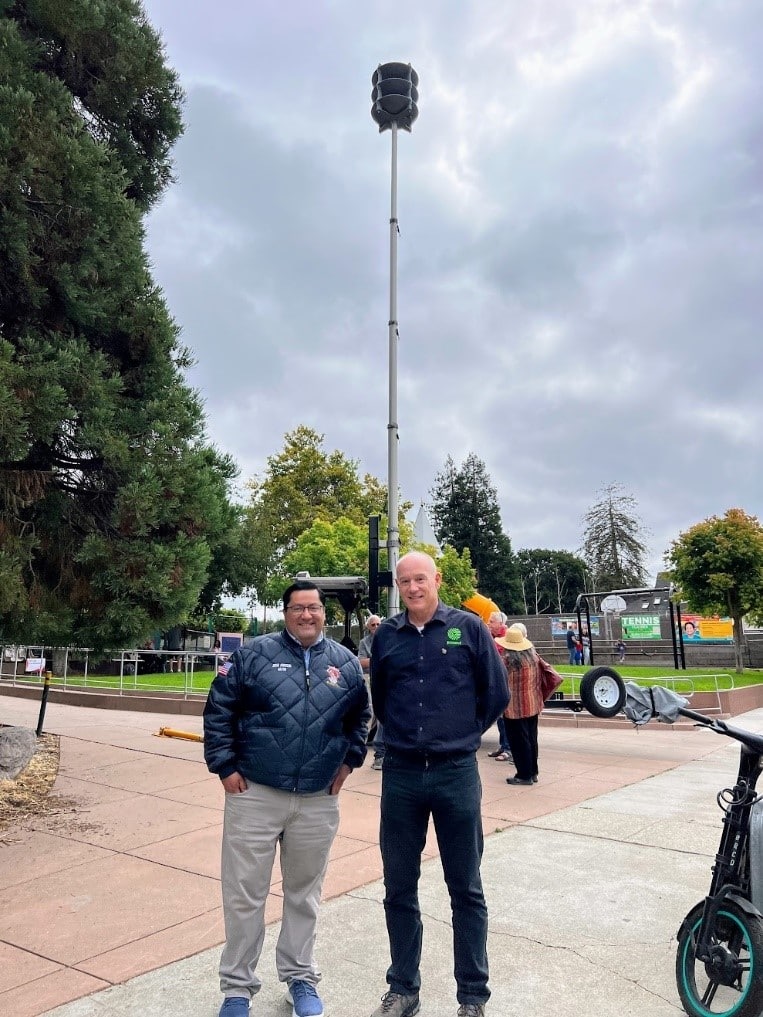 Berkeley Mayor Jesse Arreguin and Genasys SVP Charlie Crocker standing next to one of the new Genasys Protect ACOUSTICS outdoor warning systems at the Berkeley Fire Ready Fest.
At the Fire Ready Fest, the City of Berkeley introduced a new outdoor warning system to alert people to emergency conditions. This system includes 15 Genasys ACOUSTICS outdoor speakers placed on various buildings throughout Berkeley, which will broadcast siren tones, audible warnings and voice instructions. The Genasys Protect ACOUSTICS system provides added, critical communications for a range of emergency scenarios, including tsunamis, shelter-in-place orders, evacuation warnings, and extreme fire danger.
This outdoor warning system complements other alert and warning tools like AC Alert, Berkeley's Emergency Map, Wireless Emergency Alerts, and the Genasys Protect community evacuation awareness mobile app. The initial installation of ten sirens was completed in April 2023, with plans to expand to five more locations in 2023 and 2024. These sirens are strategically positioned on both city facilities and partner facilities, such as Zaytuna College and the Berkeley Unified School District, ensuring comprehensive coverage for emergency alerts.
Here are the key highlights that made the Fire Ready Fest truly special:
Collaboration of Multiple Agencies: The Fire Ready Fest saw participation from various agencies, including East Bay Regional Parks, Cal Fire – Santa Clara Unit, Berkeley Fire Department, Berkeley Police Department, Berkeley Emergency Management, Berkeley CERT, and the Red Cross. This collaborative effort demonstrated our commitment to working hand in hand with our community partners to promote public education.
Genasys Protect ACOUSTICS Steal the Show: The highlight of the event was undoubtedly the live citywide demonstration of the recently deployed ACOUSTICS outdoor warning system. During a test alert using Deputy Keith May's recorded voice, ACOUSTICS received a standing ovation, emphasizing the importance of effective communication in emergency situations.
Interactive Genasys Protect Display: At the Genasys tent, a touch-screen monitor showcased the Genasys Protect – Community website. Attendees were able to explore the platform, find their zones, and see how Siskiyou County was utilizing this powerful tool during two active fires. It was an engaging way to demonstrate the value of Genasys Protect and help community members "know your zone."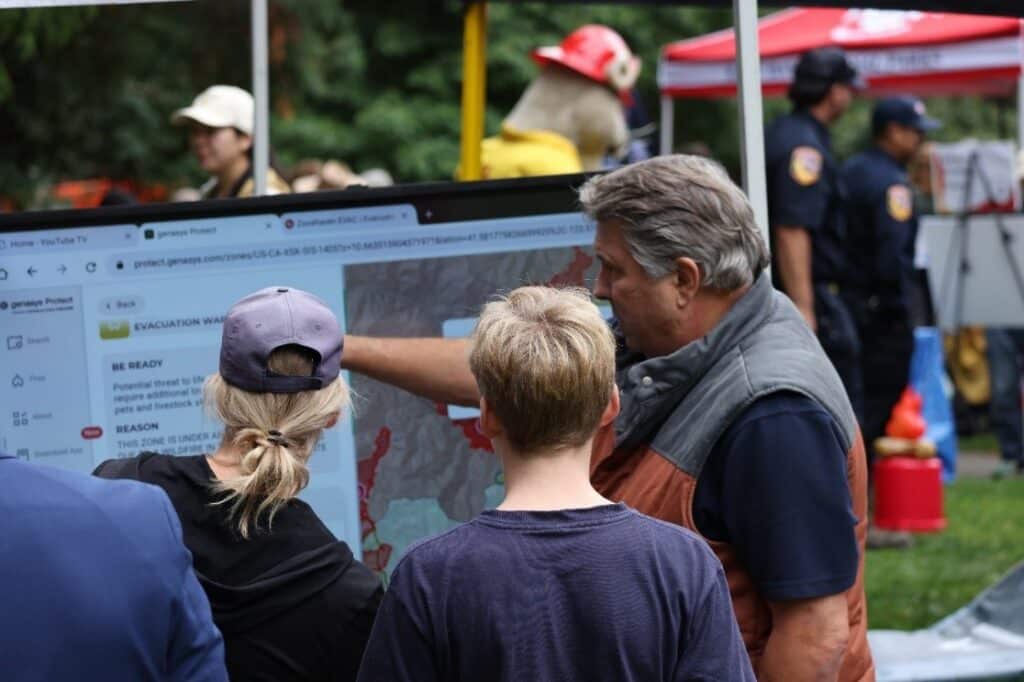 Joe Grupalo helping the Berkeley community "Know Your Zone."

Lastly, a whopping 1600 people responded to the "did you hear it" survey, which will provide invaluable insights into the effectiveness and potential gaps in the new ACOUSTICS deployments.
The City of Berkeley Fire Ready Fest exemplified our dedication to partnering with our customers and the community at large to raise awareness, educate, and engage. Our "know your zone" campaign was a significant part of this effort, and it's all part of our customer-first philosophy.
Stay tuned for more exciting updates and thank you for being a part of our journey toward a safer, more informed community! You can also watch the video coverage of the event, here.