Key Takeaways:
Emergency managers and first responders benefit from a community communications application that delivers actionable information to their residents in real-time and reduces the burden of inbound dispatch calls so emergency personnel can focus on other key tasks. 
It allows emergency responders to collaboratively supplement the long-trusted 'Know Your Zone' Map with a tool featuring zones based on population, neighborhoods, roadways, and physical barriers, facilitating a more streamlined and organized evacuation.  
An effective community communications application empowers residents to inform themselves so that they can act based on real-time situational awareness updates vetted directly by emergency managers.
Emergency managers can extend their communications so that they can reach travelers and people who have not opted into the system without increasing communication fatigue for residents.
During a hurricane event, effectively managing widespread evacuations becomes a top priority to allow emergency managers and first responders to do their jobs successfully and to ensure the public's safety. Effective crisis management dictates strong communication layers between emergency personnel and the evacuating public, but most systems lack a robust and comprehensive community-based communications application.
Crisis Management Challenges When Communicating with the Public During an Evacuation
When managing an emergency evacuation during a hurricane or other disaster, you must provide actionable information to the residents, businesses, and visitors to your area. Whether you are evacuating citizens, communicating with other agencies, protecting property, or managing dispatch, complex challenges often arise when managing a public evacuation, including: 
Effective delivery of streamlined communications that give the community enough information to evacuate safely.
Use of multiple sources of evacuation information that don't always agree, e.g., residents may have to monitor multiple websites to get a full picture of the surrounding area, including evacuation orders, routes, and resources. This can include monitoring multiple counties and municipalities as a hurricane unfolds and can cause confusion during the population re-entry phase after a hurricane event. 
Lack of communication avenues with residents and visitors who have not opted into the alerting system. 
The use of precious resources to address confusing misinformation when residents contact 911 emergency call centers with emergency evacuation questions, e.g., "Is my house under evacuation?" or " When can I re-enter my home?"
There's a solution!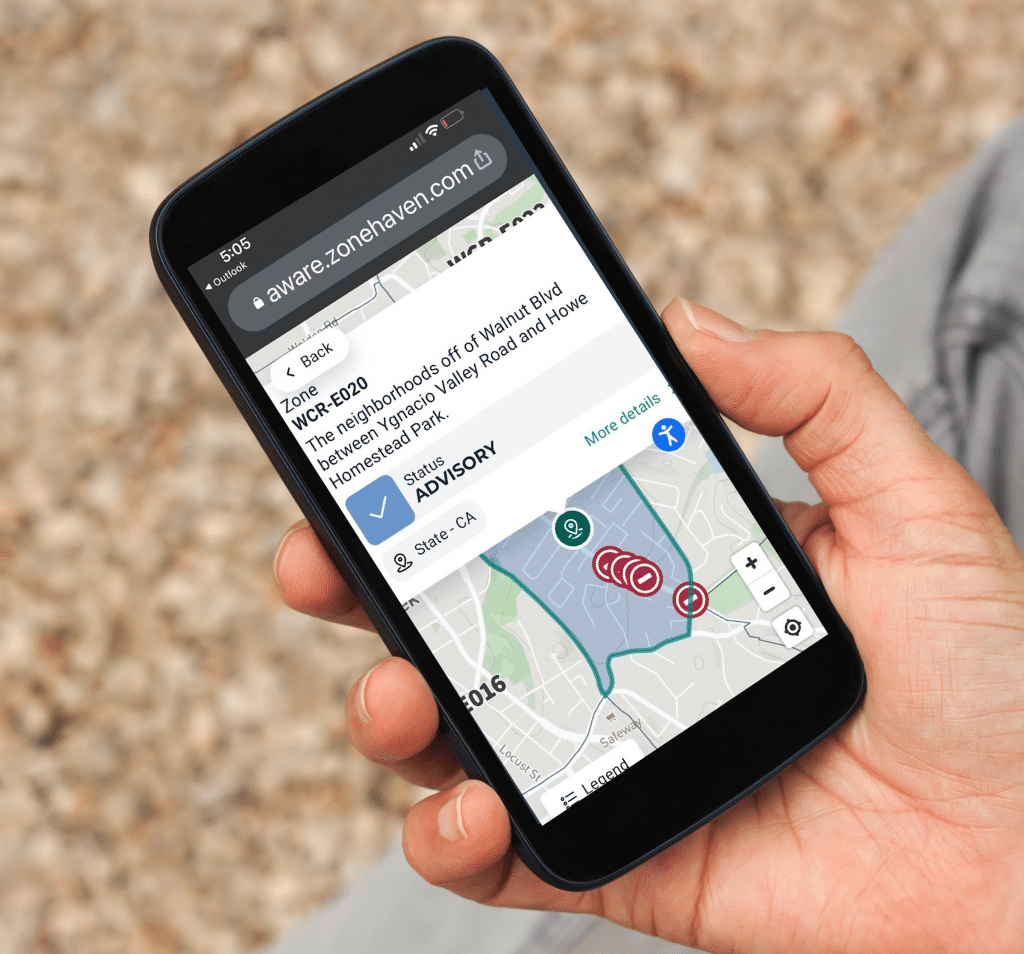 A community communications application is a map-based information system that is accessible online so that its users can gather highly detailed and updated information vetted directly by emergency managers.
Ideally, utilizing a community communications application in tandem with existing mass notification systems would allow emergency responders to have a direct line to residents where they could present information in a user-friendly way so that residents could take appropriate actions. 
Benefits of a Community Communications Application During a Hurricane
While mass notification systems are important components of an emergency evacuation plan, a community communications application that displays detailed evacuation information on an interactive map makes it a lot easier to keep residents up-to-date during emergencies.  
Displaying zone-based information vetted directly by emergency managers, with an intuitive and user-friendly interface, ensures residents can access critical updates. By providing residents with situational awareness, they can make informed decisions during a crisis such as a hurricane.
This type of application would be collaborative and work alongside the long-trusted 'Know Your Zone' Map found on multiple state and local government websites. A public community communications application will augment local agencies existing tools by providing more granular information for the public, including impacted neighborhoods, road closures, and physical barriers, to provide a higher level of detail and facilitate a more streamlined and organized evacuation.  
This type of community-facing system has proven extremely successful in California's recent flood evacuations and provides the following benefits from a public safety context.
Real-time Information Dissemination
While current systems do a great job of monitoring the evacuation process on the ground, this information is largely for emergency personnel, emergency operations centers (EOCs), and those tasked with interfacing with the public—911 dispatchers. This information can help in allocating resources, prioritizing response efforts, and adjusting strategies as the situation changes and evolves. 
Connecting the EOC to a community communications application means responders can share information directly, as the situation evolves, about evacuation orders, emergency shelters, traffic, road closures, and other important details they deem relevant based on a zone-defined mapping system.
Sharing key information with residents can improve their decision-making. The ability to know what's happening around them and when they can return home is especially important for a hurricane-displaced population. 
Mitigating Alert Overload and Communications Fatigue
Alert overload and communications fatigue are real phenomena that affect many people in our highly connected world, causing them to disconnect from potentially important sources of information. While alert fatigue is understandable, it can be highly dangerous in the context of a disaster or evacuation situation.  
Hurricanes impact massive areas, which means things change quickly in multiple places simultaneously. Mass notification systems can alert the public as the situation unfolds, but keeping up with changes across large regions without overloading the public with alerts can be difficult to balance.
An effective community communications application will disseminate quality information without adding more alerts, which gives emergency managers the opportunity to share additional useful information that would not be sent in mass notification.
Extending The Reach of Your Communications
Delivering relevant and timely emergency notifications becomes a challenge when people are traveling outside of their cities and counties, as residents don't opt into receiving emergency notifications from the city they are visiting. That is why an effective community communications application needs to be intuitive enough for visitors to type in their addresses and find their zones easily so that they can make informed decisions and take necessary actions to stay safe. 
Equally important, residents who have opted out of mass notification services due to communication overload can still access evacuation information. The same goes for evacuees who have had to move out of their EOC jurisdiction and would otherwise be left without critical information. This does not replace the need for mass notification but supplements it with a more detailed source of information that can reach everyone.
Reducing 911 Calls for Information Allows Personnel to Focus on Other Tasks
During an emergency evacuation, 911 dispatch personnel and EOCs often become overwhelmed with calls from citizens asking for information that could easily be found in a community communications application.
By proactively communicating information on a community or zone-based platform, you are less likely to tie up essential personnel with questions that can be readily found at residents' fingertips. Most incoming calls can be quickly redirected to the community communications application, where residents can learn everything they need to know.
Finding Zone-Based Information During the Actual Event
With the ability to find zones based on street address, dispatch personnel can assist residents with no internet connectivity by simply looking up the caller's address in the community app and providing an update.
Beyond keeping the public informed, news agencies, churches, volunteer groups, and non-profit organizations can take updated, accurate information from the community app and share it with the public.
Enhanced Community Engagement
For residents, a lack of information and not knowing what to do or whether they will need to evacuate can be highly stressful. If used effectively, the information found within a community communications application allows residents a sense of engagement, trust, and support during an extremely difficult time.   
Because of the real-time nature of the information, residents can feel confident that they are getting the latest and most accurate details to evacuate efficiently.
To Sum Up
Natural disasters are unpredictable! Even when there seems to be ample lead time during a hurricane evacuation, circumstances can change, as occurred during Hurricane Ian when the storm took an abrupt turn toward a highly populated area that had only hours to respond.
With the Genasys crisis management platform, Genasys Protect, your team can create incident models, allowing you to pinpoint zones and residents that are in immediate danger and target your communications and response to the most high-risk areas of your community. 
Leveraging Genasys' advanced community communications application during a hurricane enables real-time information dissemination and enhanced communication. This can vastly improve public awareness and preparedness, situational monitoring, resource mobilization, and community engagement. Additionally, by having a common operating picture, neighboring counties can see each other's activity and information on the same platform, which contributes to more informed and effective EOC operations.
Contact Genasys to learn more about Genasys Protect, a crisis management platform that provides comprehensive, real-time tools, including a community communications application for first responders and emergency managers during any crisis, such as hurricanes, wildfires, floods, and man-made disasters.  
With Genasys Protect, you and your team can feel confident that you have the premier communications tool to protect and inform your communities when it matters most.