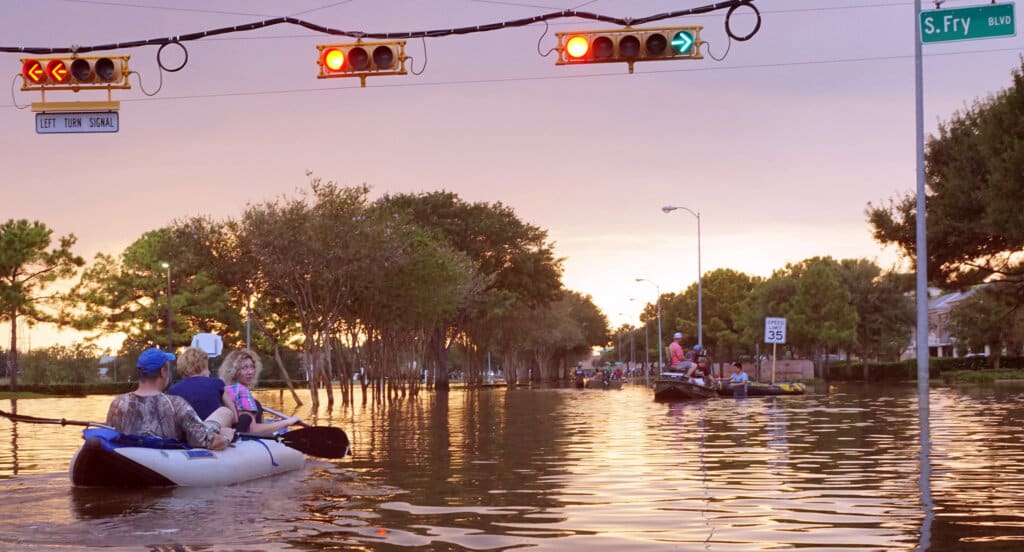 Essential Communications Tools Enhance Your Team's Evacuation Planning and Public Safety
Key Takeaways:
Pre-planned and pre-scripted evacuation communications and simulation and modeling capabilities reduce your response time from hours to minutes.
Pre-built, hazard-specific evacuation zones allow command to communicate evacuation orders and related resource information in real time to area-specific field responders and residents.
An integrated communications plan that works in tandem with surrounding communities, supported by a public-facing app for residents, community resource people, and the media, alleviates confusion and drives clarity.
During a flooding emergency, like the recent atmospheric river events in California, evacuation planning was an essential component of a public safety agency's emergency preparedness efforts. An effective evacuation communications plan that integrates response and recovery operations at the federal, state, local, and tribal levels can save lives, protect property, and ensure the safety of the public during a crisis.
In this article, we provide an overview of key considerations that public safety agencies should evaluate when creating an effective flood evacuation plan.
Communication is the Cornerstone
Before, during, and after an emergency flood evacuation event, communication is paramount. An effective evacuation plan centers around the ability to relay information quickly and accurately to all parties involved, from first responders and tactical teams to mutual aid partners, community residents, and the general public.
In fact, FEMA has identified seven core community lifelines, including communications that spearhead the disaster relief process:
Safety & Security
Food, Water, Shelter
Communications
Health and Medical
Energy
Transportation
Hazardous Material (e.g., compromised water and sanitation systems, lack of refrigeration, and potential water-borne diseases)
During the evacuation process, emergency management officials, law enforcement, firefighters, and 911 dispatchers need up-to-date, accurate information to inform the public about what's happening and how they are impacted. This can include:
Evacuation status in affected zones ("When can I go home?")
Traffic routes and contraflow lane reversals
Critical transport and medical triage/care locations
Emergency assistance and human services
Shelters and temporary housing options
Transportation, including buses and shuttles
Search and rescue efforts
What Happens When Communications Break Down
When you have a solid communications plan in place, people will get the information they need to evacuate safely and in a timely manner. A fully integrated communications solution ensures that precise, accurate information is disseminated to the people who need it in the shortest time possible. Consider a few real-world issues that have resulted from inadequate evacuation planning and communication tools:
Information Siloes – Agency website maps commonly show evacuation information only for their jurisdiction. Large regional events, like flooding, wildfires, and hurricanes, require citizens and the media to visit multiple sites to get a complete view of the incident and how it affects them. If you live in one county and work in another, you may need to go to several sources to get complete information, which can create unnecessary confusion.
Loss of Power and Cell Service – It is common during a large disaster to lose power and, in some cases, cellular phone service. In addition, some communities are located in areas without cellular coverage. Agencies need to find alternative communication methods that work even when the power is out, or the cellular network is not working.
Accuracy and Timeliness of Information – It is common for agencies to take a lot of time to craft alert language, press releases, and messaging during an incident. This results in news and social media speculating and generating their own content and messaging.
Often residents end up acting based on this outdated or inaccurate data, which leads them to shelters that are already full or do not accommodate their needs, massive traffic jams, flooding 911 call centers with questions, etc. It is imperative that agencies can make fast and accurate decisions while still being able to communicate quickly. Getting authoritative information out to mutual aid agencies, the news media, and the community can curtail the confusion created by non-official sources.
3 Key Components of an Effective Communications Solution
Evacuating a community has a profound impact on its citizens. Emotional stress can be mitigated, and decision-making can be improved by ensuring people are adequately prepared and informed. Having accurate and timely information helps to alleviate stress during a very difficult time and serves to calmly guide them throughout the operation.
Depending on the size and complexity of the community, agencies need to be able to communicate with a diverse population, including:
Residents and businesses
Visitors and tourists
Non-native language speakers
Media outlets
Facilities like schools, hospitals, churches, nursing homes, and correctional institutions
Unhoused populations
People with disabilities, including hearing and sight impairments
Those responsible for pets and livestock, wildlife, zoo animals, and exotic pet owners
To ensure successful communications during a flood evacuation, be sure to include these three components so you can reach the varied communities that will be looking to you for help:
Zone-Based Evacuation Platform – Using pre-defined evacuation zones makes it easy and fast for agencies to communicate evacuation orders. Your evacuation platform should provide: 1) tools for responders, dispatchers, and emergency personnel to collaborate and plan evacuations; 2) a website or mobile phone app that allows the public to self-serve and determine if they are affected; and 3) direct integration with a mass notification platform.
Mass Notification Platform – Translate evacuation decisions into multi-channel communications through SMS, voice, email, mobile apps, desktop, fax, IPAWS, social media, paging, and unified integrations like fire panels. A platform that automatically discovers recipients/IoT to send targeted alerts allows your agency to reach people traveling through your community as well as most residents.
Public Safety Outdoor Speaker Systems – For areas with limited coverage or at-risk populations that might not otherwise have access to popular communication tools, outdoor speakers (both stationary and mobile) allow you to communicate even when the power goes out.
Ways to Maximize Communications Solutions and Mitigate Chaos
The good news is that there are now technology solutions that make it much easier for you and your teams to prepare in advance and be ready to respond and communicate quickly. Here are some ways to make sure you are ready:
Pre-Built, Hazard-Specific Evacuation Zones – Establish zones based on hazard types, geography, population, and more. It is recommended to work with a company that has experience building and deploying "evacuable" zones.
Pre-Scripted Evacuation Communications – With the right tool, pre-scripted communications can be accessed in a "click and play" format that will speed up communications. Start with flood-specific messaging, and then you can create a full library of scripts for any emergency event where evacuation or mass notification is needed.
Community Outreach – It can be very helpful for the community to receive education to understand their zones and how to use them. Consider hosting community outreach programs to educate the community on 'Know Your Zone' and familiarize them with where to go for self-serve evacuation information. Self-service will drastically reduce 911 call volumes before, during, and after the flooding event.
Simulation and Training – Select an evacuation communications solution that allows you to model or view an event's path. Understanding the potential location and extent of a hazard allows for fast and accurate decision-making.
Traffic Control Planning – Determine and communicate evacuation routes and identify potential bottlenecks before they become problems. This allows you to route people efficiently at the onset of an evacuation. In addition, partner with tow truck companies to effectively clear issues if it becomes necessary. And remember—traffic is dynamic—be prepared to reroute based on circumstances.
In the End
If circumstances dictate a swift evacuation during heavy rainfall and potential floods, a comprehensive communications solution allows you to pre-plan and train for a variety of scenarios, respond ultra-fast when disaster strikes, and dissect your after-action analysis for actionable improvements.
With a strong emergency communications solution in place, your agency can proactively manage flood evacuations, allowing your team to focus on outcomes that will keep people safe and allow them to repopulate at the earliest possible time.
Public safety agencies across the US are taking a comprehensive and proactive approach to evacuation planning. They identify potential risks, develop emergency response plans, and deploy solid communications capabilities. By mapping evacuation routes, establishing evacuation centers, coordinating with partner agencies, and educating the public, they can help ensure the safety of their community during an emergency.
Contact Genasys to learn more about our industry-leading critical communications solutions, Genasys Protect and Zonehaven evacuation platform, that have successfully been integrated into emergency evacuation plans for public safety entities worldwide.