National Emergency Warning System
Multichannel public safety warnings, notifications, instructions and information to everyone in, or entering into, a crisis-affected area. Download the National Emergency Warning Systems Guide to learn more.
Warning and information are just as important as food and water before, during, and after the occurrence of an emergency situation.

Red Cross, World Disaster Report
ARE YOU PREPARED?
Reliable Emergency Communication
When major disasters strike, existing infrastructure is disrupted and compromised, power and communication systems fail, rural areas can be isolated and urban streets can become impassible and dangerous. Reliable communication for maintaining civil order, conducting search and rescue operations, and providing relief distribution is critical to saving lives.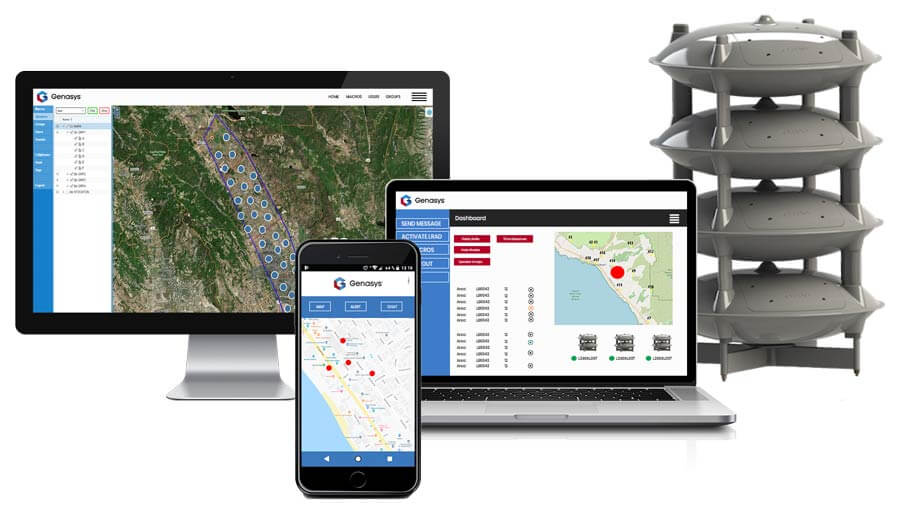 External Alert

Government Agency

Operator

Signal

Voice Notifications

Mobile Alerts
External Alert

Receives alerts and warnings from multiple sources and activates notifications.
Government Agency

Interpret and Broadcast the alerts to the designated Areas, Workforce, Agencies & Residents
Operator

Receives alerts and warnings on easy-to-use dashboard and activates notifications.
Signal

Notifications sent through TCP/IP, Satellite, WiFi, GPRS/GSM, Fiber, Radio
Voice Notifications

Broadcast audible sirens and clearly understood voice messages over local or large areas
Mobile Alerts

Send geo-targeted SMS, Text, Cell Broadcast, Email, and Social Media
GENASYS
The Only Unified Solution for Critical Communications
Delivering multichannel public safety warnings, notifications, instructions and information to everyone in, or entering into, a crisis-affected area. Genasys solutions are highly effective in communicating lifesaving information over large areas before, during, and after emergency situations.
NEWS
Mass Notification Solution based on the network of mobile carriers
The Genasys National Emergency Warning System can be deployed directly on multiple mobile carrier networks across SMS and CBC channels. This allows emergency communications personnel to send life-saving information to anyone, anywhere regardless of whether they've opted in to receive urgent notifications.
Messages can be delivered and managed through the Genasys cloud-based command console or mobile app. Dynamic maps, traffic information, weather forecasts, and sensors for earthquakes, flooding, landslides, fires, and other IoT capabilities are integrated into the app command console.
The powerful geo-location capabilities of NEWS allow designated emergency management officials to send hyper-specific instructions to people in different areas and monitor their evacuation progress.
Reach Everyone
100% of the mobile devices receive NEWS alerts and warnings, even the cellphones of tourists and visitors. No downloads, no configurations, no registrations, or opt-in necessary.
Geo-Location
Deliver warnings and alerts only to at-risk populations using NEWS geo-location and geo-fencing. This is key to maximizing attention rate, as people tend to ignore notifications that do not immediately affect them.
Maximize Reliability
With direct access to the mobile carriers, NEWS enables government officials and emergency managers to deliver local, regional or nationwide alerts, warnings and notifications quickly and reliably.
Cross Channel
NEWS delivers notifications via SMS and CBC as well as other communication channels, including social media, radio, TV, mobile apps and LRAD® public safety mass notification speaker arrays.
Multi-Channel Reliability
EECC
How Genasys Meets EECC Technical Requirements
Genasys NEWS is The Complete Solution to Meet EECC Technical Requirements
Be prepared for the June 2022 EECC technical requirements deadline and for future EECC updates with the sophisticated, proven and comprehensive Genasys NEWS solution.
See how Genasys NEWS meets and exceeds the EECC technical requirements.