By Charlie Crocker and Joe Grupalo
On Saturday, September 30, 2023, from 0630 to 1000 hrs., the Lamorinda Cities conducted their annual evacuation exercise. Representatives from the Police Departments of Lafayette, Moraga, and Orinda, along with the Moraga-Orinda and Contra Costa County Fire Protection Districts, Contra Costa County Community Warning System (CWS), Lamorinda CERT, and the Lamorinda Radio Interest Group (LARIG) took part in the field exercise. The incident command post (ICP) for the exercise was located at the Lafayette Reservoir Recreation Area dam. Additionally, the Contra Costa County Regional Fire Communications Center, Lamorinda Community Emergency Response Team, and the Contra Costa County Sheriff's Office Communications Center participated remotely.
The exercise aimed to achieve several objectives, including testing the Contra Costa County Community Warning System (CWS) for notifying Lamorinda residents in a simulated disaster scenario. It encouraged Lamorinda residents to sign up for CWS alerts and provided an opportunity to troubleshoot any issues directly with CWS after the exercise. Agencies practiced establishing and operating a Unified Command in a large-scale wildfire scenario, refining the XCC CWS alert call process involving Sheriff's Dispatch, CWS, and local Police Department personnel. Law enforcement also tested the activation of the Genasys Protect/EVAC application from the field. Additionally, City and Town staff received and updated evacuation information from CWS and practiced updating details in the Genasys Protect/EVAC application, identifying areas for potential communication improvement between the field, CWS, and the Genasys Protect website (formerly Zonehaven AWARE).
This year, Will Pigeon, CEO of Tablet Command, attended the event where we were able to demonstrate the new partnership between Tablet Command and Genasys. Tablet Command is used by firefighters across the county for situational awareness and to manage incidents. In the event of a real emergency, only affected zones would receive alerts with specific evacuation information tailored to their zone. More information about the community warning system can be found at https://cwsalerts.com.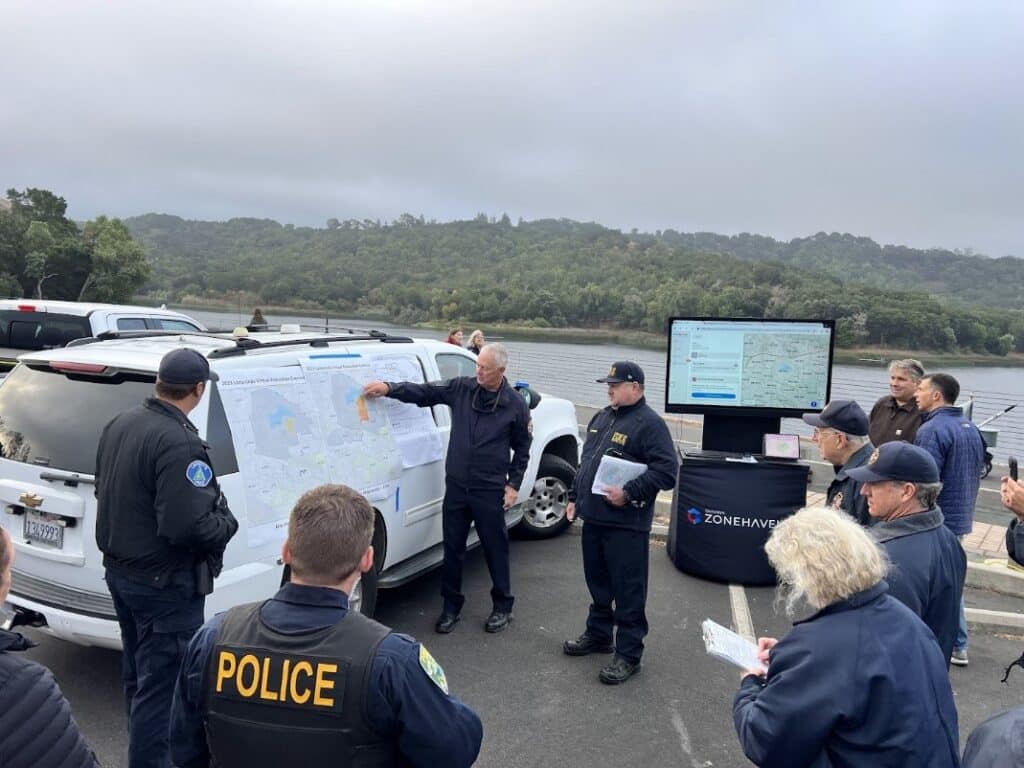 The Genasys Protect objective: PD and Fire deep integration on an incident.
The scenario this year was a wildfire burning south from the Lafayette Reservoir toward a residential subdivision. It was based on a 5-hour fire simulation created in Genasys Protect EVAC. The incident was managed in one-hour scenarios to determine when and where to evacuate the public. Intentionally, the fire simulation was located across three jurisdictions and multiple responding agencies (Lafayette, Moraga and Orinda). This required intra-agency coordination to process an alert from the field, engage the county CWS, and ultimately get the alert out to the public. The goal is to be able to make fast, informed decisions and get the message to the public as quickly as possible, saving lives.
The exercise brought together multiple law and fire agencies on the ground who were able to work together and make coordinated cross-functional decisions in real time. The processes and tools worked as expected. One area for improvement is shortening the time from calling for the evacuation from the field through personnel responsible for relaying the message upstream into the Community Warning System and out to the public. This issue was identified during the exercise and is being actively worked on.
Genasys has supported hundreds of training drills and intra-agency exercises over the past five years. And like in Contra Costa County, it helps to do these drills on a regular cadence because of personnel turnover and never-ending succession planning. This becomes even more critical when evacuation plans require agencies to evacuate residents across jurisdictional boundaries.
These drills also provide the opportunity to identify gaps in communications or incident management workflows. For example, during another drill at a different large county, it was identified that only one person in the county had access to the IPAWS notification system. If this person was not available, no WEA alert could go out. So, to remedy, the county, in this case, gave credentials and training to personnel in some of the police and fire agencies to provide IPAWS redundancy.
At Genasys, we emphasize Customer Success as a core value. Our commitment goes beyond delivering a platform; our Customer Success team collaborates with clients to foster engagement through training, drills, live-incident support, and access to engineering plans and roadmaps. This dedicated team comprises individuals with diverse backgrounds, including:
Former first responders from police and fire departments who bring real-world experience to deployments and training.
Former members of the US armed forces with global deployment experience.
Former county emergency management and public information officers with extensive incident management and public communication expertise.
An experienced engineering team renowned for developing, testing and implementing secure, reliable and effective public safety systems worldwide.
Our team is always ready to support you, ensuring that you have the best resources at your side.